June 23, 2020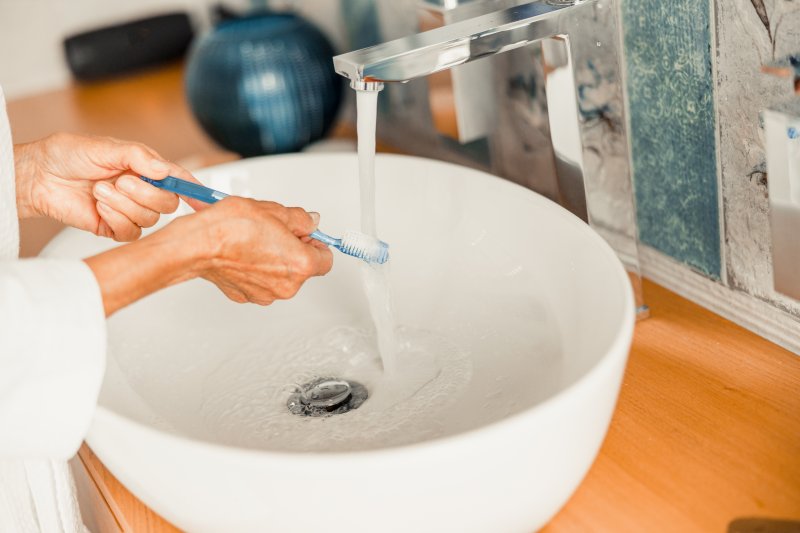 Did you know that the average toothbrush holds roughly 1.2 million bacteria particles? Yikes! While many Americans follow the American Dental Association (ADA) guideline of replacing their toothbrush every three months, few properly disinfect it to prevent bacteria or viruses from spreading. If you can't remember the last time you cleaned your toothbrush, here are three helpful tips from your family dentist in Carmel.
Rinse After Each Use
The ADA strongly recommends rinsing your toothbrush thoroughly both morning and night. This will prevent microorganisms forming due to the food and bacteria in your mouth. For this to be effective, it is important that you:
Remove all lingering debris from your toothbrush.
Rinse thoroughly with clean, hot water.
Stand the toothbrush up in its holder for it to air dry completely.
Disinfect The Bristles
Both soft-bristle and hard-bristle toothbrushes can become a breeding ground for bacteria and harbor viruses. This is especially important to note if you or a loved one was recently sick. If the toothbrush was used throughout that time, then the bacteria or virus from that sore throat, stuffy nose, or painful cough have all made a home on that brush. To protect yourself from the germs that could be lingering on it, replace it immediately or thoroughly disinfect it by:
Soaking it overnight in vinegar.
Placing the brush in two teaspoons of baking soda and water to steep.
Swirling the bristles in mouthwash for 30 seconds at a time.
Practice Prevention
Setting yourself up for success is crucial, especially if regularly cleaning your toothbrush is a new part of your oral hygiene routine. Below are three prevention best practices:
Replace your brush every three months (unless otherwise instructed).
Keep a back-up toothbrush on hand to use while you are sick.
Store your toothbrush in an upright position that allows the bristles to air dry without coming into contact with anything.
A clean toothbrush is crucial to preserving your oral care. Otherwise, it's like using a dirty sponge to wash a dirty plate! So, make sure to set a reminder in your phone to disinfect your toothbrush regularly so it can give you a pearly, white smile you'll love.
About the Author
For Dr. Springhetti, dentistry isn't just a career. It's a passion that he has developed since he first began shadowing local dentists in high school. Although he has an impressive list of academic accomplishments, the root of his world-class service still stems from a genuine love of taking care of people. He truly believes that clinical care should be exceptional from every angle, and he has hand picked a team that helps him make his mission a reality for each of his patients. If you have any questions about improving your oral hygiene routine, make sure to visit his website or give him a call at 317-875-7645.
Comments Off on 3 Easy Tips for Sanitizing Your Toothbrush
No Comments
No comments yet.
RSS feed for comments on this post.
Sorry, the comment form is closed at this time.