Preventive Dentistry – Carmel, IN
Long-Term Care for Flawless Smiles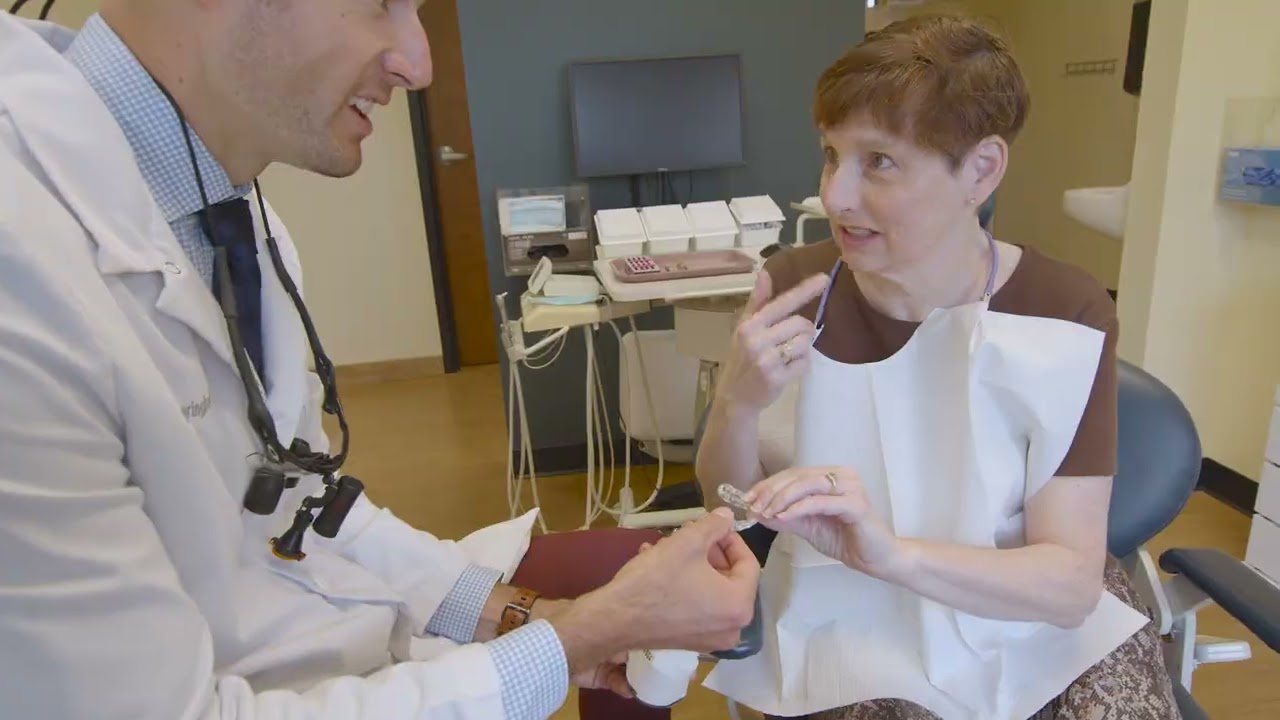 As an avid endurance athlete, Dr. Springhetti knows all too well that planning ahead is essential to avoiding problems down the road. That's why he's such a big proponent of stretching, adequate rest, and preventive dentistry. While the first two will help your muscles stay in great shape during a long run, the last one is essential for keeping your teeth free of cavities and gum disease and ensuring you don't develop bigger issues in the future. All it takes is just two checkups and cleanings each year to make a major difference for your oral health, so to schedule you or your child's next appointment for preventive dentistry in Carmel, IN, contact us today!
Why Choose Springhetti Dentistry for Preventive Dentistry?
Personalized Service Built on Strong Relationships
Ready to Treat the Entire Family Under One Roof
Extensive Variety of Services
Dental Checkups & Teeth Cleanings
From children to grandparents and everyone in between, checkups and cleanings are absolutely essential for maintaining a strong and healthy smile. During these appointments, our team won't just clean your teeth of plaque and tartar to make them feel fantastically smooth, but Dr. Springhetti will also perform a thorough oral exam. By getting checkups regularly, you enable our team to spot and treat minor issues as early as possible, saving you from having to deal with bigger (and more expensive!) problems in the future.
Oral Cancer Screenings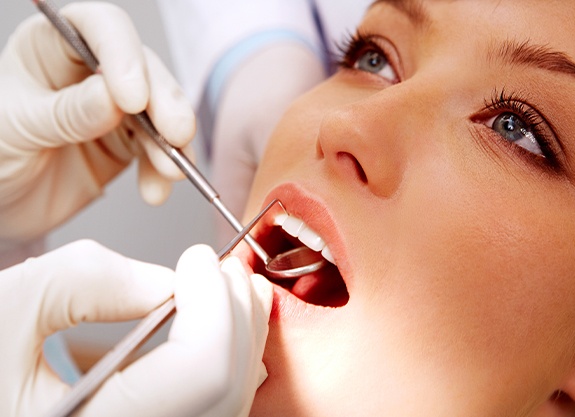 Cavities and gum disease aren't the only issues that can develop in your smile—oral cancer is a real threat, too, even for people who don't use tobacco or alcohol. Dr. Springhetti will spend a few minutes screening your mouth for any signs of this disease during your checkups, and if he finds anything, he can organize for a biopsy and diagnosis right away. Early detection and treatment are the best ways to beat oral cancer, and these screenings are an essential part of that.
Fluoride Treatments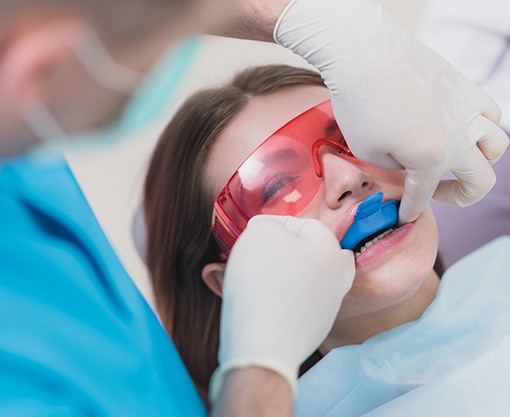 After your dental cleaning, our team will coat your teeth with a highly-concentrated fluoride solution for a minute or so. That's all it takes to give your teeth an extra level of cavity protection that will last all the way until your next visit. When fluoride comes in contact with enamel, it actually strengthens it and even fixes small areas of early decay, stopping many cavities before they ever begin.
At-Home Oral Hygiene Products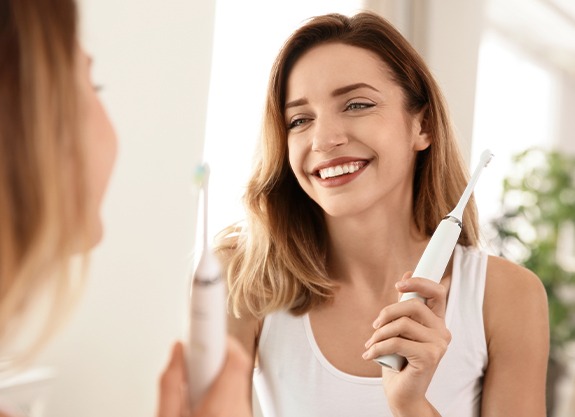 Your family's at-home oral hygiene routines are extremely important to your ongoing oral health, which means the products you use matter quite a bit! We can let you know which toothpastes and toothbrushes everyone in your household should be using, and we can also provide you with something called a WaterPik. This small device uses a concentrated stream of water to remove plaque and tartar, and it's excellent for cleaning those areas of the mouth that are out of reach of floss and brushing.
Dental Sealants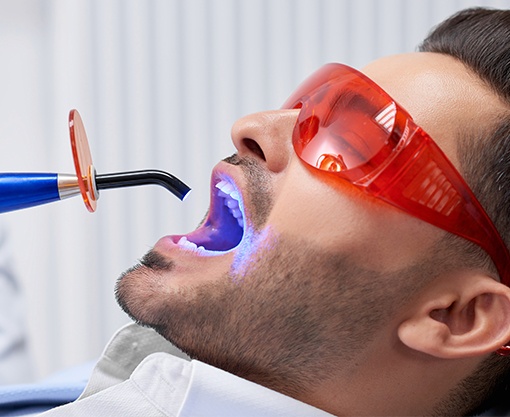 With this treatment, we literally place a thin, nearly invisible barrier over the back teeth to prevent plaque, bacteria, and food particles from settling on them that could lead to cavities. Why the back teeth? Their grooved surfaces make them pretty tricky to clean while brushing, particularly for children, so they are the first place most people develop cavities. Sealants are highly-recommended for children as well as adults who are more prone to tooth decay.
Athletic Mouthguards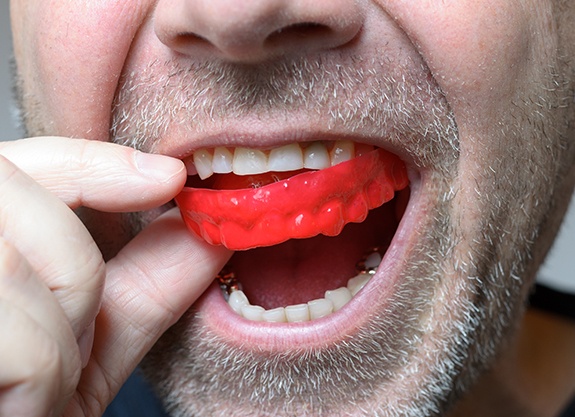 Before your child hits the field, mat, or court, you probably make sure they're wearing all of the proper safety equipment, but one piece might be missing. Sports-related accidents account for nearly 40% of ALL dental injuries, and to make sure your child (or YOU) doesn't add to this statistic, Dr. Springhetti recommends always wearing an athletic mouthguard. He can provide custom-made ones for our patients that are not only more comfortable than store bought appliances, but provide higher quality protection as well.
Children's Dentistry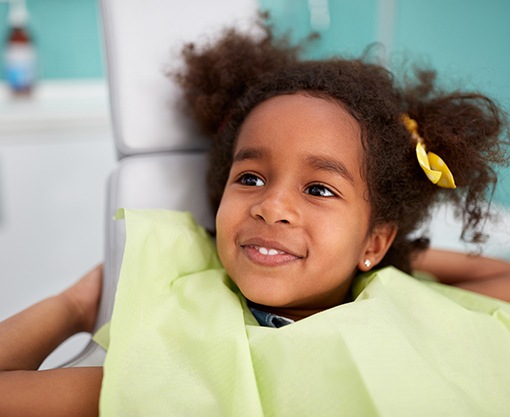 Dr. Springhetti (or "Dr. Spaghetti" as some of our younger patients call him) just loves taking care of growing smiles and putting them on the path to a lifetime of optimal oral health. In addition to offering general services like gentle checkups and cleanings for children of all ages, he can also take care of more advanced problems like lip/tongue ties. He can even provide pulp therapy, which helps stop bad toothaches while preserving damaged teeth. Whether your child has just gotten their first tooth or is starting to think about college, they are always welcome through our doors!