Emergency Dentistry – Carmel, IN
Fast Care is Just a Call Away
When it comes to dental emergencies, whether someone is dealing with a terrible toothache or broken/knocked out tooth, time is always of the essence. Rather than spending hours waiting at the emergency room or being treated by someone with little to no dental training at an urgent care clinic, Carmel families have a much better option: call Springhetti Dentistry. Here, we'll not only be able to help you faster than the other guys, but we have the experience and technology to reliably handle even the most urgent dental situations. When you need dental care right NOW, be sure to think of us first for emergency dentistry in Carmel, IN!
Why Choose Springhetti Dentistry for Emergency Dentistry?
Same-Day Appointments Available
Sedation That Helps Every Patient Feel Comfortable
Experienced Dentist Who Can Stay Calm in Stressful Situations
How to Handle Common Dental Emergencies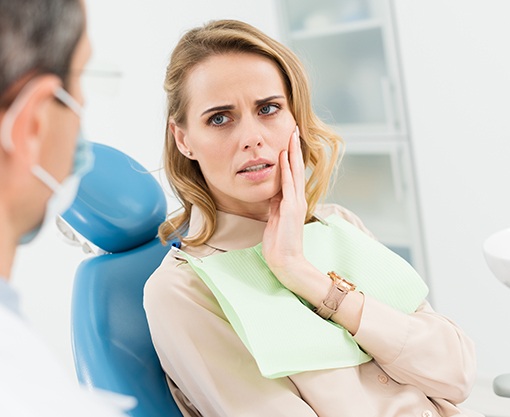 Before you do anything else during a dental emergency, make sure you call our dental office. That way, we'll be able to schedule you for an appointment as quickly as possible, plus our team will walk you through first-aid. In the time between your call and when you reach us, there are a few things you can do to improve your situation. Below, you'll find essential tips for handling some of the most common dental emergencies: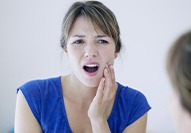 Toothaches
A toothache can be caused by something as innocuous as a piece of food being stuck between the teeth, or something serious like an infection or crack in the enamel. After rinsing and flossing around the hurting tooth, if the pain continues, go ahead and take an OTC medication and apply a cold compress to the face.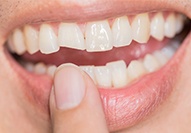 Chipped/Broken Tooth
Pick up as many pieces of the tooth that you can find and place them in a safe container. Remember to bring them to our dental office. If the remaining tooth has a rough or jagged edge, make sure it's covered to prevent further injury to the mouth. The easiest way to do this is to place a piece of sugarless gum over it.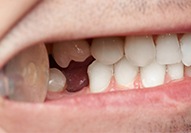 Knocked-Out Tooth
It's important for you to come see us as quickly as possible in this situation, as we have the best chance of replanting the tooth within an hour or so of the initial incident. Recover the tooth, don't touch the root, and gently rinse it with water. Place it under the tongue or in a container with milk or saltwater—this will help keep the tooth alive until we can see you.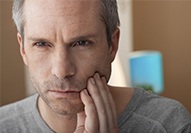 Lost Filling/Crown
If you can find the restoration, give it a quick rinse, and try to place it back onto your tooth. This is only a temporary fix, and you should still come to see us to get a full repair. If the restoration is broken or lost, avoid chewing with that part of your mouth, and cover the tooth with some sugarless gum or dental wax to keep it protected against food debris/bacteria.
How to Prevent Dental Emergencies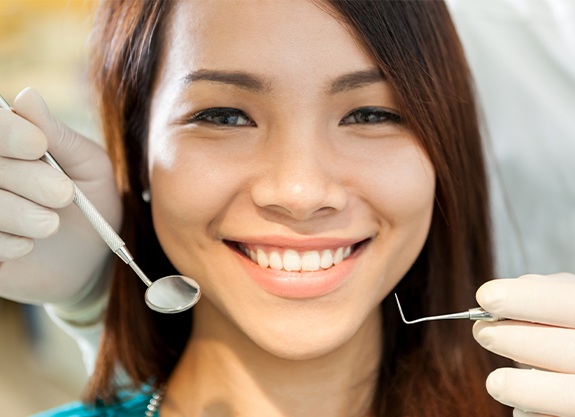 The best ways to lower your chances of needing to make a sudden, unexpected dental visit include:
Wearing a mouthguard whenever you play sports to keep your teeth protected from impacts.
NOT chewing extremely hard non-food items like ice, pens, pencils, fingernails, etc.
Being careful when eating particularly hard or sticky foods.
Not using your teeth to open packages or bottles.
Keeping up with your daily oral hygiene to prevent small issues that could turn into big emergencies later.
The Cost of Treating Dental Emergencies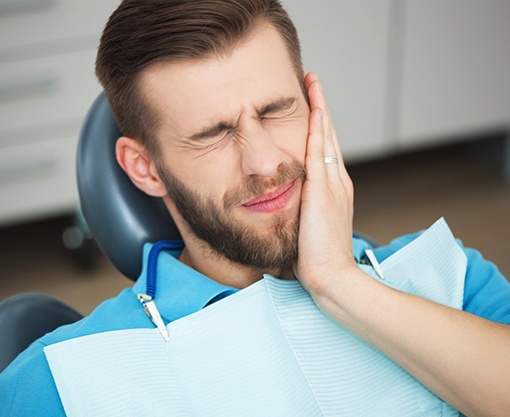 Just like with medical emergencies, the cost of treating a dental emergency is always different from patient to patient depending on the type and extent of their injury. We always work to get a patient out of pain first before discussing their treatment options. To make this type of care more affordable, we're happy to accept a wide variety of PPO dental insurance plans as well as all major credit cards.