Advanced Dental Services & Technology – Carmel, IN
State-of-the-Art Care for Carmel Smiles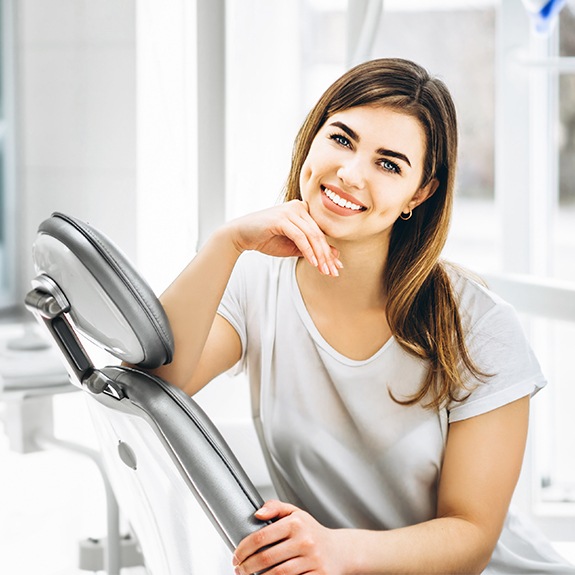 At Springhetti Dentistry, we like to say that we combine old-fashioned customer service with the latest dental technology, and fortunately for our patients, we don't just say that! Our advanced instruments enable us to deliver care that is consistently fast, precise, and comfortable, allowing our patients to get what they need without any wasted time or stress. Read on below to learn more about some of the technology that will help your next dental appointment fly by!
Committed to State-of-the-Art & Comfortable Dental Experiences
Intraoral Camera: See Exactly What Your Dentist Sees
3D Cone Beam Imaging: Unmatched Diagnostic Excellence
Soft Tissue Laser: Virtually Pain-Free Gum Disease Therapy
Intraoral Cameras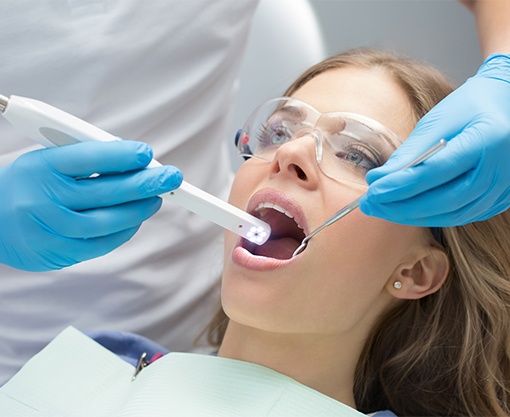 For decades, the only way a dentist could look into a patient's mouth to examine it was to shine a bright light and likely blind them in the process. Now, thankfully, our intraoral camera makes it easy for our team to look at every corner of the mouth quickly and comfortably. About the size of a pen, this small device is able to capture high-resolution photos of the teeth and gums we can display on a large screen right in the treatment room. Not only does this help us find potential problems more effectively, but we can better explain what we're seeing to our patients, turning appointments into an informative and empowering experience.
3D Cone Beam Imaging
A complicated procedure like dental implant placement requires a lot of planning beforehand, and instead of just taking a regular X-ray of a patient's mouth, we utilize our 3D cone beam scanner. Rather than creating a 2D image, it generates a fully-realized model of the teeth, jaws, and adjacent structures in amazing detail. With this kind of image, we can put together an extremely precise treatment plan to practically guarantee a successful and comfortable procedure.
All-Digital X-Rays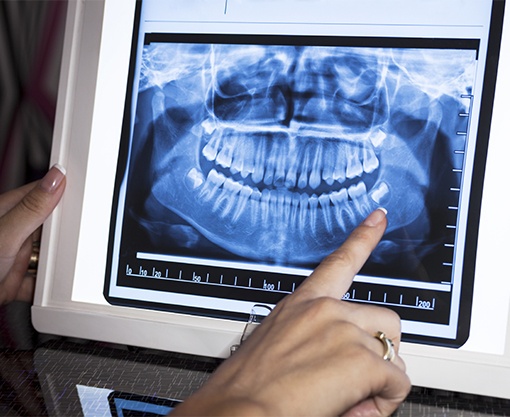 We use X-rays every single day in our dental office to look at the teeth beneath the gum line, and to make this instrument faster and safer than ever before, we've gone fully digital. Traditional film-based X-rays take quite a bit of time to develop and require toxic chemicals to do so, but thankfully, both of these issues are solved with digital X-rays! In seconds, they create crystal-clear images we can instantly show a patient on a nearby monitor, and the entire process emits 90% less radiation compared to old X-rays as well!
Soft Tissue Laser Dentistry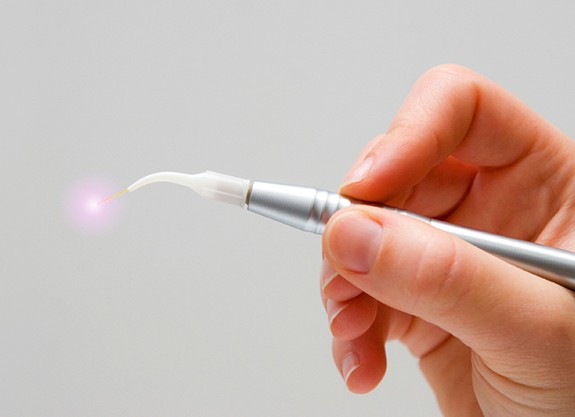 Our NV PRO3 soft tissue laser might seem like something straight out of sci-fi, but it's a real instrument that enables us to quickly perform a wide variety of procedures that used to require scalpels and sutures. With its concentrated light energy, we can effectively remove bacteria from deep below the gum line, prepare the mouth for restorations, and even make dental implant placement less invasive. Because the laser cauterizes and sanitizes tissues as it goes, patients experience little to no bleeding or discomfort during treatment. Most don't even need local anesthetic to stay completely comfortable!