April 22, 2020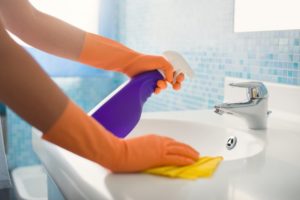 While you're self-isolating, it's important to take preventive measures in order to optimize and protect your oral and overall wellbeing. Plus, with all of the extra time on your hands, it would help occupy your time in a positive way! Read on to learn about five oral health tips that will protect your smile and your wellbeing while you're self-isolating during COVID-19.  
Wash Your Hands Before Brushing
Because several viruses and other illnesses can be spread via germs and bacteria that come into contact with your mucous membrane (eyes, nose, and mouth), it's important to always wash your hands before brushing and flossing your teeth. This can also help prevent the introduction of foreign bacteria into your mouth that can impact your oral health.
Stick to Your Daily Routine
Self-isolating and spending most of your time at home can cause your daily routine to completely change. During this time, it's important to keep up with your dental hygiene at home to avoid oral health problems. Even though your emergency dentist is still treating patients, it's probably best to avoid any additional stress during these uncertain times.
Prevent Unnecessary Runs To The Store
The CDC recommends social distancing and avoiding contact with other people whenever necessary to slow the spread of COVID-19. That also means limiting your trips to public spaces such as grocery stores, even though they're still open. A good way to do this is by using only what you need. For example, you only need 18 inches of dental floss to properly clean between your teeth and about a pea-sized dab of toothpaste. For these types of products, a little goes a long way!
Sanitize Your Toothbrush
To prevent bacteria accumulation on the handle of your toothbrush, you can sanitize it by placing it in boiling water for five minutes or wiping the handle with a disinfectant wipe. Also, remember to switch out your toothbrush when you're sick to prevent becoming re-infected.
Clean Your Toothbrush Holder
Did you know that one of the dirtiest objects in your household is your toothbrush holder? These are the perfect breeding ground for bacteria because they're wet, dark, and rarely disturbed. Many people forget to check the bottom of the holder for gunk buildup, which allows it to continue to grow and even transfer to your toothbrush handle and eventually to your mouth. You can keep this from happening by regularly running your holder through the dishwasher or soaking it in hot water and bleach and rinsing it out.
Self-isolation is a great time to reflect on your oral habits and optimize your oral and overall health by tweaking the way that you care for your smile. With these five tips, you'll be able to prevent germ accumulation, illness, and oral health problems from developing.
About the Author
Dr. Aaron Springhetti is passionate about creating long-lasting patient relationships and providing the highest quality of care. During the COVID-19 crisis, Springhetti Dentistry will be open to diagnose and treat dental emergencies only. For questions or to schedule an emergency appointment during COVID-19, visit his website or call 317-875-7645.
Comments Off on 5 Oral Hygiene Tips During COVID-19
No Comments
No comments yet.
RSS feed for comments on this post.
Sorry, the comment form is closed at this time.