July 21, 2020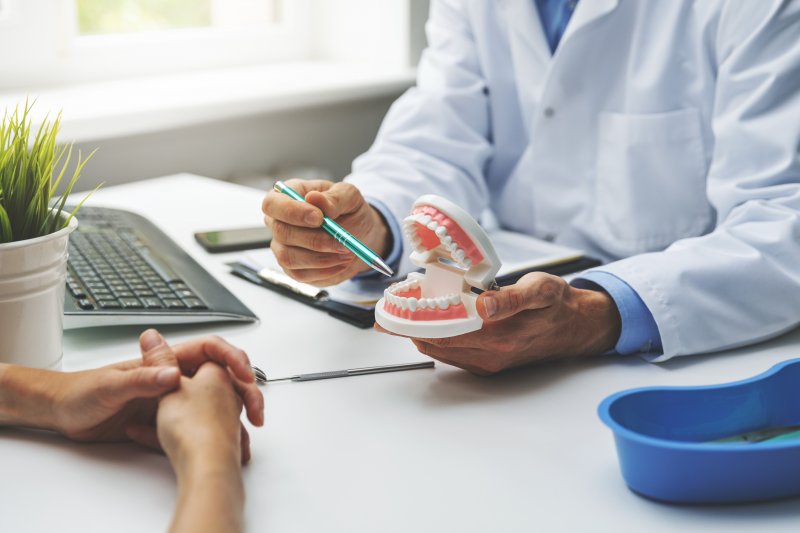 Did you know roughly 176 million Americans are missing at least one tooth? Whether it is a swift, accidental blow to the jaw or a rogue popcorn kernel that dislodges a tooth, tooth loss is rampant among Americans. While people are often quick to fix their front teeth for aesthetic purposes, they don't have the same urgency about repairing their molars. Although you may not see them as often, they serve a functional purpose that is extremely important. Read on for three reasons why you should consider using dental implants to restore your back teeth.
Back Teeth Are Critical For a Strong Bite
Your teeth play a significant role in the start of the digestion process. While you chew, your teeth break down the components of your food for maximum nutrition. However, if your bite is negatively impacted by a missing molar, this can cause irritated gums, decrease chewing efficiency, and lead to indigestion. Fortunately, dental implants are inserted into the jawbone to provide a durable, sturdy replacement option that effectively restores your bite strength!
Dental Implants Can Protect Your Healthy Teeth
When one of your back teeth is missing, the inflammation of your gums can cause you to favor the other side of your mouth. While this can make chewing more pain-free, it can also lead to excessive wear on the teeth that are overcompensating. Plus, the large gap can cause your natural teeth to shift due to a lack of support. So, even if a missing back tooth seems out of sight, out of mind, it won't stay that way forever. Before long, your teeth can become misaligned and negatively impact your self-confidence. The good news is that dental implants can provide your remaining teeth the support they need so your beautiful smile can stay intact!
Prevent Your Jawbone From Deteriorating
All too often, the focus of oral care is placed on the teeth. However, other factors, like your jawbone, play a crucial role in the health of your smile. For example, when the part of the jawbone that anchors your teeth (the alveolar bone) no longer receives the stimulation it needs, it begins to break down. This causes the jawbone to deteriorate, which can wreak havoc on your oral health and even lead to additional tooth loss. Fortunately, dental implants can prevent this from occurring by preserving the jawbone and lowering the risk of future tooth loss. (Plus, they are the only replacement option that can do this!).
Initially, losing a back tooth may seem like nothing more than a minor inconvenience. However, no matter where the missing tooth is, it is important to get it replaced. Fortunately, with dental implants, you can walk out of your dentist's office with a beautiful smile, strong bite, and pristine oral health.
About the Author
For Dr. Aaron Springhetti, his passion for dentistry has been a constant throughout his life. In fact, he even shadowed local dentists and specialists in high school before earning his undergraduate degree from Wabash College. From there, he obtained his dental doctorate from the University of Louisville School of Dentistry. Today, Dr. Springhetti provides world-class care to his patients and has attended multiple state-of-the-art courses in dental implants. If you are looking for an implant dentist to restore your smile and bite, visit his website or give him a call at 317-875-7645.
Comments Off on 3 Reasons It's Crucial to Replace Missing Back Teeth
No Comments
No comments yet.
RSS feed for comments on this post.
Sorry, the comment form is closed at this time.