July 7, 2020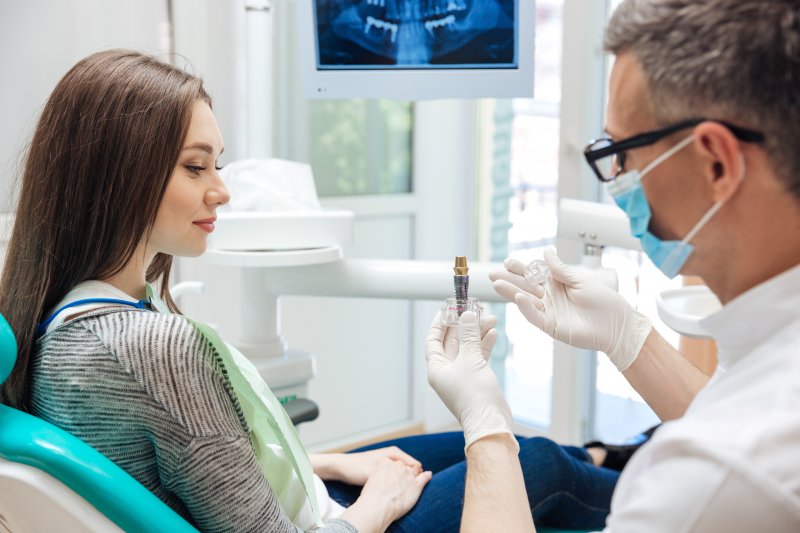 According to the experts, the first evidence of dental implants being used was in 2000 BC! Back then, items like bamboo pegs, seashells, and animal teeth were used to replace missing teeth. Thanks to modern technology and advancements in dentistry, patients today can opt for dental implants that are as durable as they are natural-looking. In fact, there are two types of dental implants dentists can use to restore a patient's smile, bite, and speech. Read on for information on the differences between the two and who is the best candidate for each.
What Are the Two Types of Dental Implants?
Endosteal – This is the most common type of dental implant and is used to support bridges or removable dentures. They are surgically placed into the jawbone with screws, blades, or cylinders for a sturdy restorative dentistry solution. This approach is most effective for patients who have excellent bone density, so the implant does not shift or need to be replaced.
Subperiosteal – This type of dental implant is placed on the bone, not in the bone. While it is not as common as its endosteal counterpart, they are effective for patients who are unable to wear traditional dentures. By placing the implant on top of the jaw with posts, the dental prosthesis can effectively be held in place.
Which Patients Are Candidates for Dental Implants?
Dental implants are a leading restorative option for patients who have lost teeth or are undergoing an extraction. In fact, dental implant procedures increased by over 6% between 2019 and 2020 alone! Therefore, if you are missing a tooth, are not able to chew properly, or have impaired speech because of a gap in your teeth, then it is time to talk to your dentist about dental implants!
Are Dental Implants Safe?
With any medical procedure, there are risk factors involved. However, dental implants currently hold over a 90% success rate! Plus, there are preventive tactics (like proper oral care and quitting bad dental habits) that can prevent the likelihood of them failing, becoming infected, or moving from the implant site. In fact, that is one of the reasons thousands of patients choose dental implants each year!
If you have a missing tooth that is negatively impacting your self-esteem, bite, speech, and overall quality of life, then it is time to consider dental implants. With both endosteal and subperiosteal options available, everyone can achieve the full, strong smile they deserve in just a few visits!
About the Author
In addition to earning his undergraduate degree from Wabash College, Dr. Aaron Springhetti received his dental doctorate from the University of Louisville School of Dentistry. Since then, he has completed an extensive amount of advanced training and state-of-the-art courses on dental implants, sinus lifts, and bone grafting (to name a few!). Dr. Springhetti is also involved in the Dawson Academy and is currently pursuing accreditation with the American Academy of Cosmetic Dentistry. If you are looking for an implant dentist, don't hesitate to visit his website or give him a call at 317-875-7645.
Comments Off on Did You Know There Are Two Types of Dental Implants?
No Comments
No comments yet.
RSS feed for comments on this post.
Sorry, the comment form is closed at this time.