March 30, 2020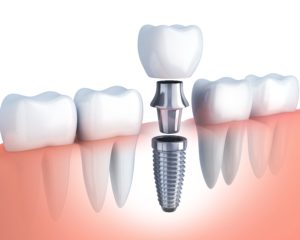 In a world where a wealth of information is at our fingertips, it's also easy to spread misconceptions. Because of this, many people who might be excellent candidates for dental implants may end up not getting their missing teeth replaced due to some far-fetched rumor they may have heard. They may suffer through having a noticeable gap in their grin for years, which can also result in multiple oral health problems. Fortunately, an implant dentist is here to set the record straight by busting four common myths about dental implants.
Myth #1: Dental Bridges Are Better Than Implants
If you're missing teeth, there are a few different ways you can replace them, one of them being a dental bridge. Bridges consist of a string of dental crowns that are used to literally bridge the gap in your grin. However, they also require that your two remaining teeth on either side of the gap be filed down so crowns can be anchored to them. Implants are generally considered better than bridges, since adjacent teeth don't need to be altered to place them.
Myth #2: Dental Implants Can Cause a Lot of Pain
Many people are scared of getting dental implants because they're worried the procedure will hurt. In actuality, your implant dentist will ensure you're comfortable with plenty of local anesthesia and sedation. While there will likely be some soreness for a few days afterward, it can be managed with pain medications like ibuprofen.
Myth #3: Implants Will Look Different from Your Natural Teeth
If your implant is placed and restored properly, no one should be able to tell the difference between it and the rest of your natural teeth. Your dentist should restore your implant with a high-quality dental crown that looks and feels just like a normal tooth.
Myth #4: It's Okay to Buy Bargain Implants If Your Budget Is Tight
In recent years, bargain implant centers have sprung up, offering tooth replacement at a fraction of the cost of your dentist. However, when it comes to dental care, you always get what you pay for. These centers often use cheap materials that don't last as long and could even be dangerous. You're much better off investing in a professionally made implant from your dentist.
Although there are still a lot of myths out there regarding dental implants, we hope that this post cleared a few of them up for you. If you have any other questions, feel free to contact your implant dentist.
About the Author
Dr. Aaron Springhetti is an implant dentist in Carmel, IN. He is a graduate of the University of Louisville School of Dentistry. He also has a history of advanced training in oral surgery, so he can both place and restore dental implants. He is currently pursuing accreditation with the American Academy of Cosmetic Dentistry. For more information on dental implant myths, visit Dr. Springhetti's website.
Comments Off on Debunking 4 Myths About Dental Implants
No Comments
No comments yet.
RSS feed for comments on this post.
Sorry, the comment form is closed at this time.