February 22, 2020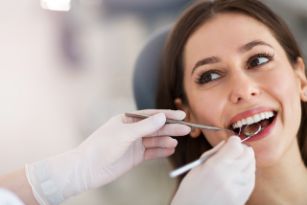 Everyone's heard the expression, "An ounce of prevention is worth a pound of cure." While it applies to many different situations, it's especially true when it comes to your health! A great example is routine dental care. These visits are recommended with one goal in mind: to prevent oral health problems. Unfortunately, the American Dental Association estimates that 32% of Americans neglect regular checkups. Although it's commonly thought of as a good way to save money, nothing could be further from the truth. Learn more below about how to maintain your smile affordably with regular visits to a dentist.
How Do Checkups Save You Money?
Just like oil changes and tire rotations keep your car running smoothly, checkups and cleanings can prevent a lot of major dental problems down the road. Here are a few examples of ways that checkups save you both time and money spent in the dental chair:
Fewer painful emergencies – It's estimated that over 2 million dental emergencies are treated in the hospital each year, many of which are from people who don't get regular preventive care. These visits are not only painful but usually very expensive as well.
Lower risk of gum disease – Gum disease affects millions of Americans and is the #1 cause of tooth loss. Fortunately, it can often be prevented or at least managed with consistent checkups and cleanings.
Less major dental work – Small cavities don't usually cause much pain, so it's easy to have them but not know it. A dentist can find tooth decay early on with diagnostic tools like annual X-rays and repair it with simple, inexpensive fillings. If you wait until you feel pain, you're more likely to need extensive dental work like a crown or root canal.
What's Included In a Checkup and Cleaning?
Checkups consist of a lot more than just a simple "cavity check." They're designed to evaluate every aspect of your oral health and include all of the following:
A medical history update
X-rays (usually once per year or as needed for specific problems)
A fast, easy oral cancer screening by both a hygienist and dentist
Annual gum exam to find gum disease in its early stages when treatment is most effective
Fluoride treatments to prevent cavities (generally for all children and some adults)
Personalized oral hygiene tips
A professional cleaning and polish
An opportunity to ask questions about any concerns such as cosmetic flaws or TMJ issues
An exam with a dentist to make sure that your natural teeth and existing dental work are functioning well
Ultimately, it's easier and cheaper to prevent problems altogether or find and treat them as soon as possible. And regular checkups and cleanings help you do just that!
About the Author
Dr. Aaron Springhetti is a family dentist and a graduate of the University of Louisville School of Dentistry. His goal is to help his patients minimize the major dental work they need, so he always encourages them to schedule regular checkups and cleanings. If you're overdue for routine dental care or have any questions, he can be contacted via his website.
Comments Off on Think Seeing a Dentist Is Expensive? Neglecting To Will Cost You a Lot More!
No Comments
No comments yet.
RSS feed for comments on this post.
Sorry, the comment form is closed at this time.