February 20, 2020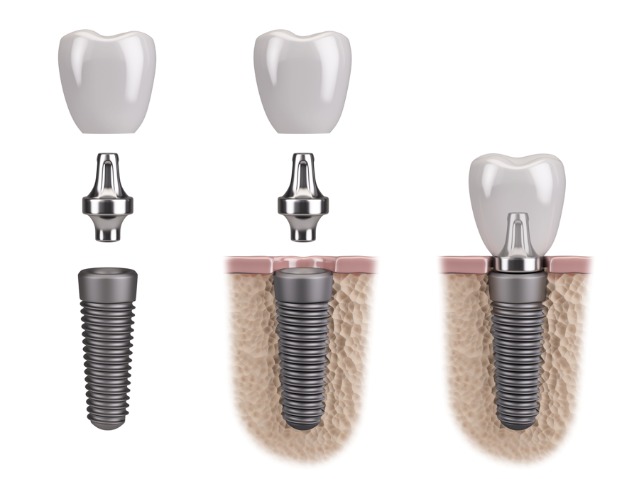 After tooth loss, you anticipate the immediate impact it will have on your oral health. But one thing that surprises many people is how it affects their self-confidence. And since the way you carry yourself in the world is so important, it's well worth it to do what you can to improve your self-image. Fortunately, dental implants can do just that! This outstanding option for tooth replacement will give you a beautifully restored smile that also feels very natural. Keep reading below to learn about the 3 ways implants can improve your self-confidence.
1. You Won't Feel Embarrassed Around Other People
Giving a presentation at work, meeting with clients, and socializing with friends are all examples of everyday situations that are harder to navigate when you don't like your appearance. Some people feel so self-conscious about visible gaps in their smile that they frequently cover their mouth or even avoid smiling and laughing altogether.
Dental implants look and feel so much like your own teeth that you won't give smiling a second thought. And that makes it a lot easier to be successful in both your personal and professional life.
2. You Can Enjoy a Meal With Friends Without Worry
Trying to enjoy a meal when you can't chew your favorite foods or you have a denture that slips can be really embarrassing. Especially for people who are missing multiple teeth, dental implants do more than just restore the appearance of their smile. They also make it much easier to eat foods like steak, corn on the cob, and popcorn.
Even people with full dentures can greatly improve their fit, function and chewing power with dental implants. Oftentimes, only 2 to 6 implants are needed per arch to support and stabilize a denture.
3. You'll Look (and Feel) Younger
You may not realize it, but your upper and lower jaws support the muscles in your face and maintain its shape and structure. Unfortunately, the jawbone begins to deteriorate as soon as the teeth are lost. Over time, this leads to an aged or sagging appearance.
Dental implants prevent this from happening because they take the place of missing tooth roots. This "tricks" your body into thinking that a natural tooth is still present, so your jawbone is preserved. That's not only incredibly beneficial for your long-term oral health but also helps you look more youthful as well.
Dental implants can make a huge difference in your confidence after tooth loss. In fact, they're one of the best ways to feel good about your smile for many years to come!
About the Author
Dr. Aaron Springhetti is a general and implant dentist who loves helping people regain their confidence after tooth loss. With advanced training from both the Dawson Academy and Implant Seminars, he can handle each phase of the implant procedure and has seen firsthand how they improve his patients' self-image. If you'd like more information about dental implants or have any other questions, you can contact Dr. Springhetti via his website.
Comments Off on Struggling With Confidence After Tooth Loss? 3 Ways Dental Implants Can Help
No Comments
No comments yet.
RSS feed for comments on this post.
Sorry, the comment form is closed at this time.