January 22, 2020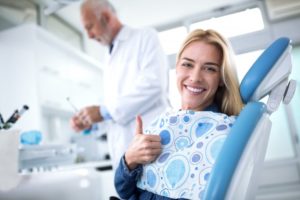 These days, it's all too easy to put off visiting the dentist for a checkup and cleaning. Whether it's due to time constraints, worries about cost, or good old-fashioned dental anxiety, many of us procrastinate when it comes to getting the dental care we need, even if it's just a routine appointment. This is especially hard when you're in need of finding a new dentist. To make things a little easier, read this post on what you can expect during a typical first appointment with a new dentist.
Comprehensive Dental Exam
The exam portion of your appointment is crucial to providing you with any diagnoses or treatment plans. It involves:
Oral Cancer Screening
In most cases, early signs of oral cancer can be spotted by your dentist. They will take a thorough look at your mouth for any abnormalities that could indicate oral cancer.
Periodontal Exam
Periodontal (gum) disease is the leading cause of adult tooth loss in the United States. As such, it's imperative that it gets detected by your dentist before it reaches that point.
Occlusal Exam
Your teeth will be evaluated for signs of unconscious clenching or grinding, also known as bruxism. They'll also be checked for problems with the way your upper and lower jaw come together and issues with your jaw joint (TMJ).
Caries Exam
Using special tools as well as x-rays, your dentist will examine each of your teeth for signs of cavities and come up with a personalized plan to treat them.
Head and Neck Exam
Your dentist will check your head, neck, TMJ, salivary glands, and lymph nodes in your neck area for any abnormalities that need further attention.
X-Rays
Taking x-rays is the best way to catch oral health problems that can't be seen by the naked eye, such as decay in between the teeth. It's also perfect for determining whether root canal therapy is required, or to detect bone loss that may indicate advanced gum disease.
Routine Dental Cleaning
Once your dentist has performed all the necessary exams and discussed a personalized treatment plan with you, the dental hygienist will take over from there. They will use specialized tools to remove built up plaque and tartar from your teeth and along your gumline. While you can clean plaque from your teeth at home, only a dental professional can remove it once it hardens into tartar. After your cleaning, your hygienist can apply a topical varnish of fluoride to strengthen your teeth against cavities until your next visit.
Now you have some idea of what to expect the first time you visit a new dentist. Why not call one and set up an appointment? It will get your teeth and gums on the right track to being healthy for life!
About the Author
Dr. Aaron Springhetti obtained his doctorate from the University of Louisville School of Dentistry. Since graduation, he has undergone extensive amounts of advanced training, particularly in oral surgery. He is currently pursuing accreditation with the prestigious American Academy of Cosmetic Dentistry to help his patients achieve their best and brightest smiles. If you're looking for a dentist in Carmel, IN, look no further than Dr. Springhetti's practice. Visit his website to learn more.
Comments Off on What to Expect at Your First Dental Visit
No Comments
No comments yet.
RSS feed for comments on this post.
Sorry, the comment form is closed at this time.